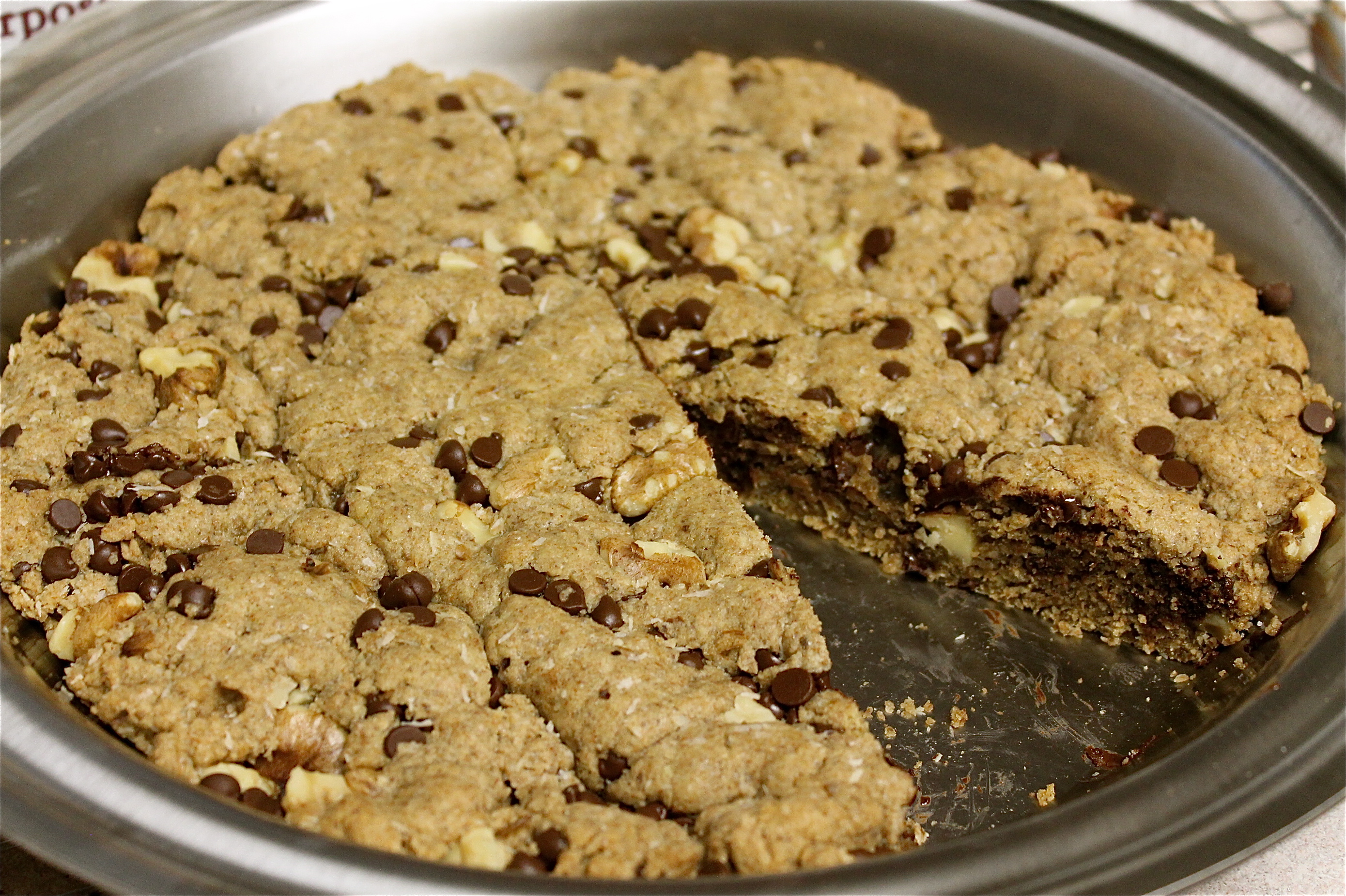 Chocolate-Coconut-Walnut Cookie Pie
I had a hankering for pie and cookies the other day so I decided what better way to combine the two cravings than making a cookie pie? Plus rather than having to scoop out a bunch of individual cookies you save time and have one tasty giant cookie to share.  Also the baked cookie pie freezes really well so you can save some for another day when that craving strikes again.
Serves 8
INGREDIENTS
1/4 cup + 2 tablespoons coconut oil, liquid
1/2 cup brown sugar
1/4 cup evaporated cane sugar
1 teaspoon vanilla
2 flax "eggs" (1 flax egg = 1 tablespoon ground flax + 3 tablespoons water)
1 cup whole wheat flour
1 cup all purpose flour
1/4 cup shredded unsweetened coconut
1/2 teaspoon baking soda
1/4 teaspoon salt
2/3 cup mini chocolate chips
2/3 cup chopped walnuts
DIRECTIONS
Preheat oven to 350F.
Brush the pie pan with a layer of coconut oil.
Whisk together the flours, coconut, soda and salt.
In an electric mixer beat together the oil, sugars, flax "eggs" and vanilla with the whisk attachment.
Reduce speed and slowly add in the flour mixture just to combine.
Fold  in the chocolate chips and walnuts.
Pour mixture into the pie pan and press down into an even layer.
Bake for 22-25 minutes or until lightly browned on top.
Allow to cool in the pan on a wire rack until completely cool.