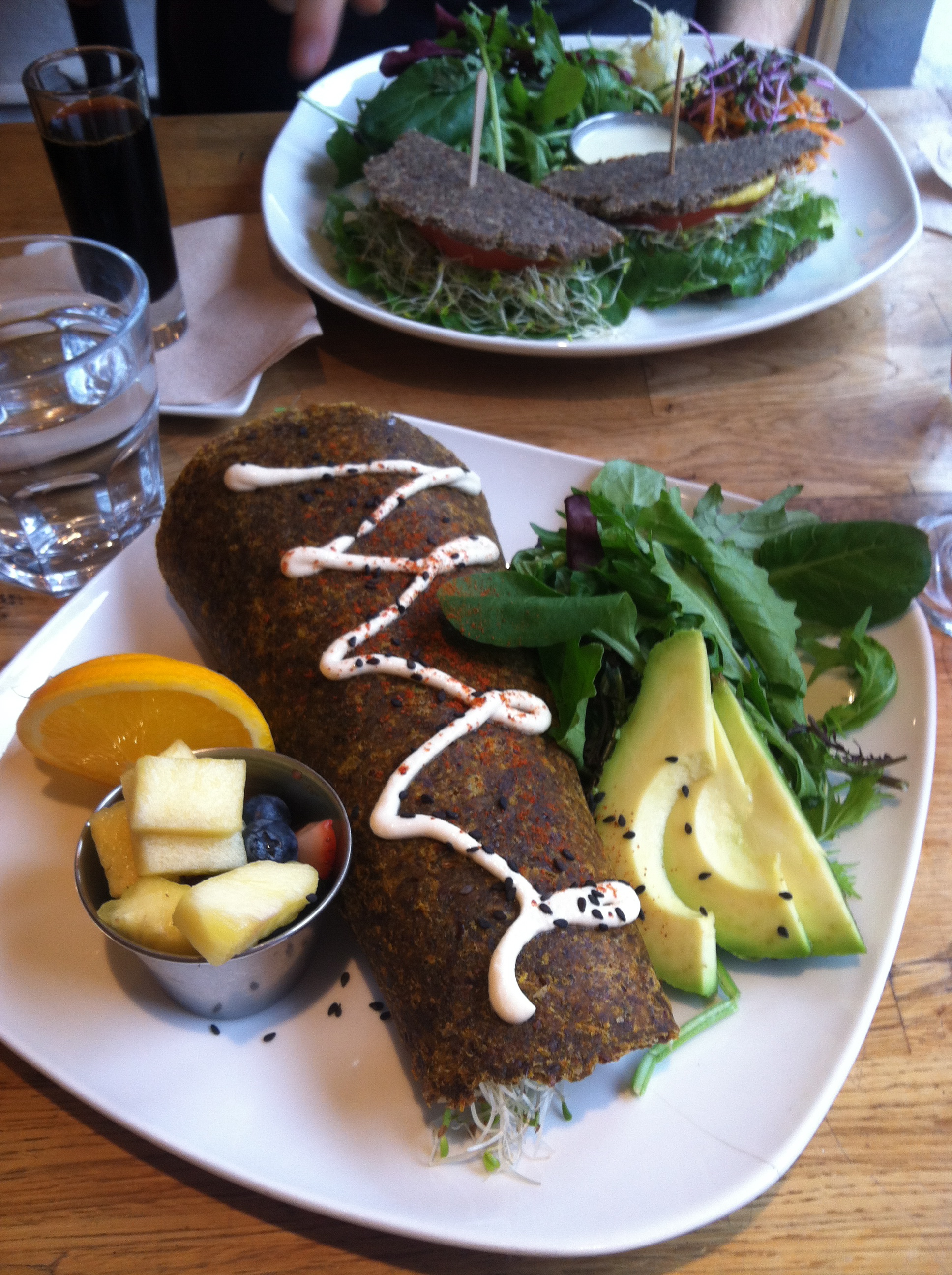 Sunday morning we woke up early (per baby's routine) and made some early morning breakfast and coffee.  Edie ate a few times and took a brief nap before heading out for brunch.
Once E woke we bundled her up and headed out for a walk while we debated between Aux Vivres and Crudessence for brunch.  We ended up deciding on Crudessence because it has been on our Montreal bucket list for year but in the past it has either not been open or we have run out of time.
We started with some beverages a shot of cold pressed espresso for Neil and the best kombucha I have ever tried for me.
As you can see E didn't want to feel left out so she decided she needed to eat as well.
For brunch Neil and I decided to share two different items:
Öm Burger: A mixture of mushroom, sun dried tomato, flaxseed and mixed vegetables, served on chapati and garnished with fresh tomato, red onion, lettuce, homemade mustard, ketchup and our famous caper aïoli sauce with a side of salads which included greens, sauerkraut and carrot salad.

Breakfast Burrito: Sun dried tomato and corn tortilla filled with our "egg" paté, aubergine bacon, tomato, lettuce and sprouts. Garnished with avocado, crème fraîche and local microgreens
Both were good but the Breakfast Burrito was exceptional.  The "egg" paté was incredible and I really want to recreate it at home. The burger is one of the most popular items but I thought it was good but not great.  The carrot salad was wonderful and Neil loved the sauerkraut.
Neil and I had saved enough room for dessert but Miss E was getting a little fussy so we decided to grab a package of green tea spirulina macaroons to go even though we wanted the blueberry faux cheesecake. The macaroons were incredible though so we were happy.
We packed E up in the Boba carrier and took the Metro to Jean-Talon Market.
We spent a few hours wondering around the market sampling the produce, admiring the turkish sweets (a few of which we enjoyed) and sipping a wonderful coffee all while the baby slept.
We picked up a few items from the market for our dinner and headed back to the apartment to relax and cook up dinner. We spent the remainder of the rainy night eating a yummy pasta dinner and watching Netflix.
Stay tuned for part three!