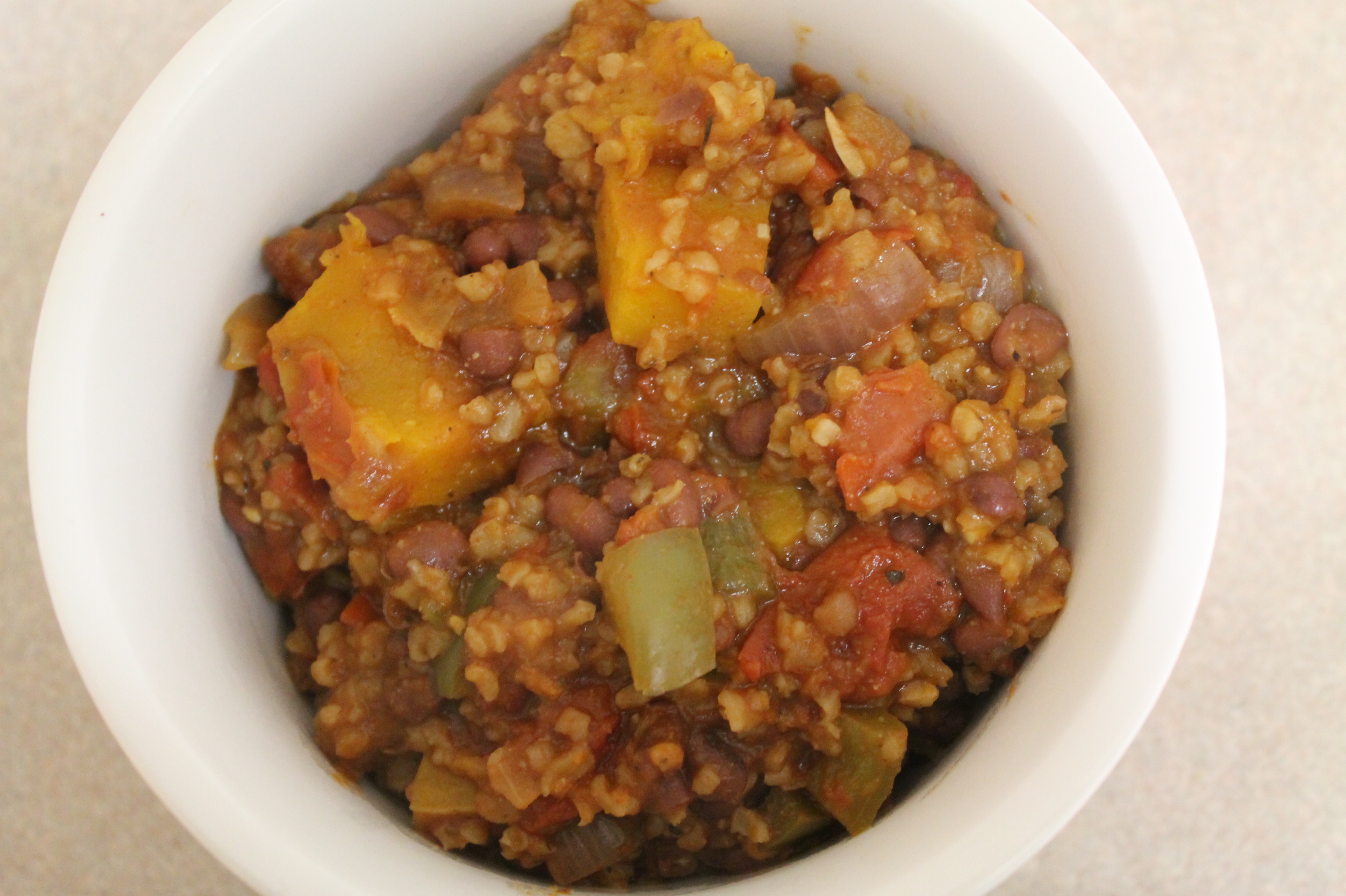 Chipotle Butternut Squash Chili
I am a huge fan of chili and as soon as the air is crisp you better believe there is a pot (or two) of chili cooking up in my kitchen.  That being said I have a few favorite recipes that I have perfected over the years but I am always working on altering them a bit and creating new ones.  This recipe is similar to ones that I have made before however this time I added bulgur and aduzki beans (I would have normally made it with black beans but they are on my can't eat list right now do to breastfeeding).  This was as hit with both my husband and our friend Laura and is easily now one of my favorite chili recipes.

2 tablespoon olive oil, divided
1 2 1/4-pound butternut squash, peeled, seeded, cut into 1/2-inch cubes (about 3 cups)
1 red onion, diced
1 red bell pepper, diced
2 garlic cloves, minced
1 tablespoon chili powder
1/2 tablespoon chipotle chili powder
1/2 tablespoon ground cumin
1 teaspoons Italian seasoning
1 14.5-ounce cans fire-roasted tomatoes
15 oz can adzuki or black beans, drained and rinsed.
1/2 cup bulgur
2 cups vegetable broth
Preheat oven to 400F. Toss squash with olive oil, spread on sheet pan and place in the oven to roast for 30 minutes.
Heat oil in medium heavy bottom pot over medium-high heat. Add onions and pepper; cook until soft and lightly browned. Add garlic; stir 1 minute. Stir in chili powders, cumin, and Italian seasoning. Stir in tomatoes with juice and beans.  Add bulgur and broth. Bring to boil, reduce heat to low, cover with lid and simmer for 20 minutes. Season to taste with coarse salt and freshly ground black pepper.
Stir squash into chili. Simmer covered over medium-low heat for 10 minutes. Season to taste with salt and pepper.