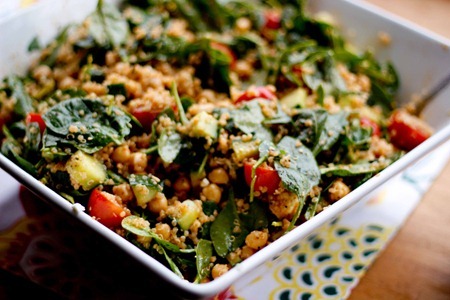 While I prep for the arrival of our baby I have invited Mellissa from A Fit and Spicy Life to share one of her recipes.
Quinoa, Garbanzo and Spinach Salad
with Smoked Paprika Vinaigrette

Ingredients (Serves 8-10)
1 1/2 cups quinoa, rinsed and drained
4 cups (packed) baby spinach leaves
2 15- to 16-ounce cans garbanzo beans, rinsed and drained
1 unpeeled English hothouse cucumber, cut into small pieces
1-pint grape or cherry tomatoes, halved
1 cup (packed) fresh mint leaves
1/4 cup red wine vinegar
2 1/2 teaspoons smoked paprika
1/2 cup olive oil
Instructions
Place quinoa in large saucepan; add enough salted water to cover quinoa by 1 inch. Bring to boil. Reduce heat to medium-low; cover and simmer until quinoa is tender, 15 to 16 minutes. Drain. Chill until cool.
Combine spinach leaves, garbanzos, cubed cucumber, halved tomatoes and mint leaves in extra-large bowl.
Add cooled quinoa and toss gently to blend.
Whisk vinegar and smoked paprika in small bowl. Gradually whisk in oil. Season dressing with salt and pepper.
Pour dressing over salad; toss to coat.
Season generously with salt and pepper.
Mellissa is a 30 something girl living in Minneapolis who lives fitness, food, travel and wine. She creates healthy recipes and tries to share her love of food with friends and family