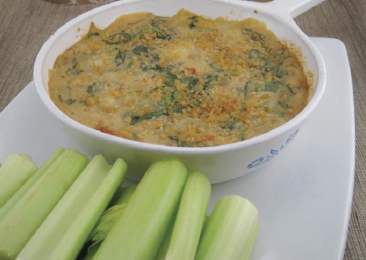 This is my twist on a traditional dip that is usually filled with fat,  ingredients. Serve this at your next party or bring to your next potluck.
INGREDIENTS
1 Tbsp olive oil
1 small onion, diced
5 garlic cloves, minced
3 cups baby spinach
1 (6oz) jar of marinated artichoke hearts, roughly chopped
10 sun-dried tomatoes packed in olive oil, sliced
1 (14oz) can of navy beans or cannelini beans, drained and rinsed
1/3 cup vegetable broth
salt and pepper
2-3 Tbsp nutritional yeast
DIRECTIONS
1. In a medium skillet, heat the olive oil over medium high heat; add in the onion and cook for 5-7 minutes until soft. Stir in the garlic and cook for 1 minute. Add the spinach and cook until wilted. Remove from the stove and place in a bowl; set to the side.
2. In a food processor or blender process the beans with the vegetable broth until smooth.
3. To the processor add the spinach, artichoke hearts, sun-dried tomatoes, and nutritional yeast; pulse 4-5 times to combine. Season with salt and pepper to taste.
4. Place in a medium oven safe dish, cover and then you place in the refrigerator for at least 2 hours or over night to achieve the best flavor.
When ready to cook preheat oven to 400F.
1.Bake uncovered for 35-40 minutes until edges are browned and bubbly.
2. Serve with vegetable sticks, pita or crackers.
Bonus Recipe: Spicy Black Eyed Peas and Greens over at my Health Coaching Site.