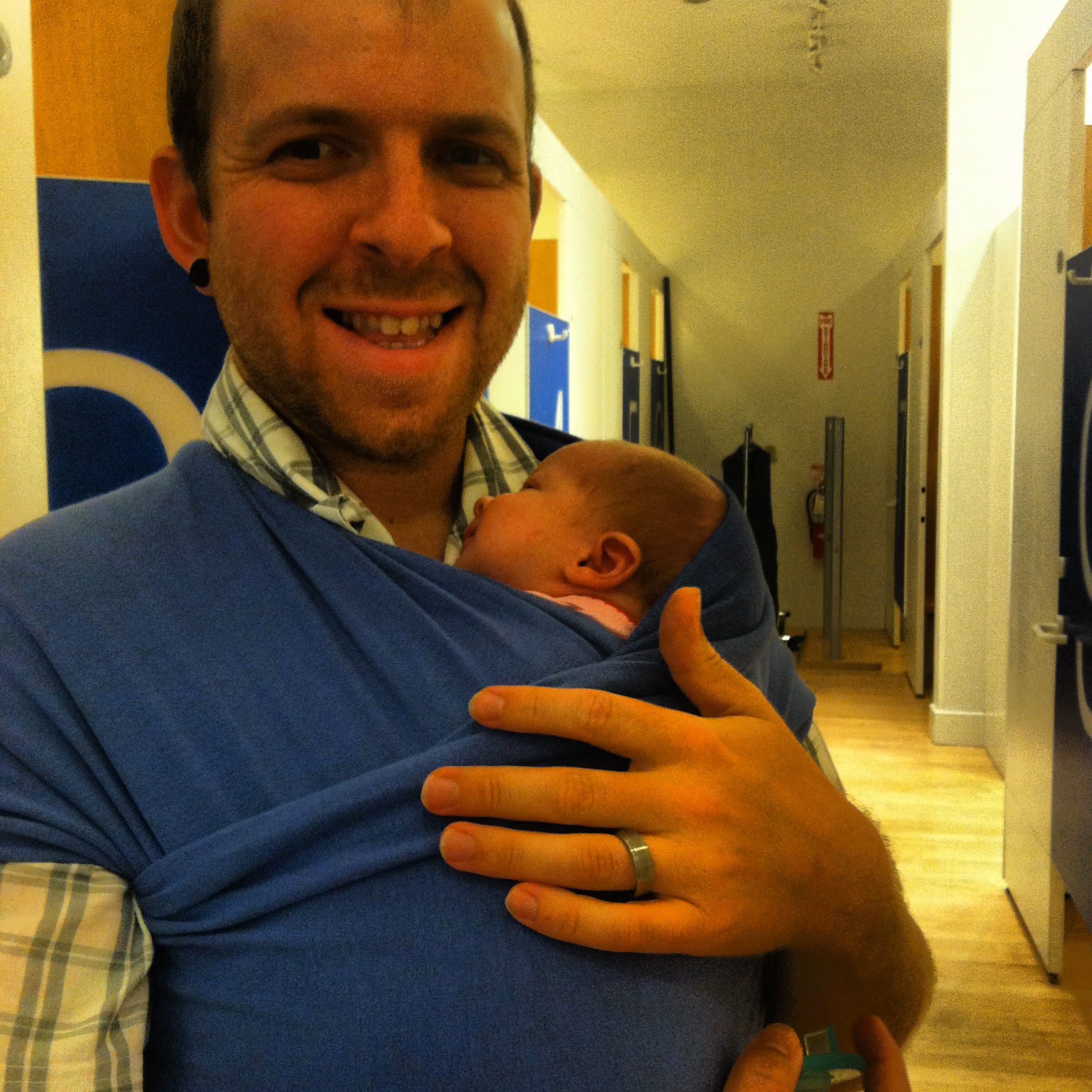 When we first found out we were pregnant I knew immediately that we would be the type of parents who would take on the practice of babywearing.  As we learned in our Natural Baby Care Class there are a number of benefits to babywearing which just made us more excited to try it out.
Did you know?*
Babies that are held/carried often cry less.
Babies that are held/carried are calmer.
Babies that are held/carried are better sleepers.
Babies that are held/carried nurse more frequently.
Babies that are held/carried have better digestion, especially those who experience gastroesophageal reflux disease (GERD)
Babies that are held/carried develop better.
Once we decided to babywear we had to then figure out which carrier would be the best for us to use.  There are so many different types of carriers (you can read about them here) it can get really confusing and honestly expensive because I really want to try them all but alas I have to reign myself in and only try a few.
Since Edie is so tiny our options have been more limited on which carriers are safest due to the weight minimum of many carriers, many are 8lbs which I am happy to say Edie should be up to now or at least soon. So to start out with we have been using the Boba Baby Wrap which I am happy to say Neil and I have both really been enjoying.
The Boba Baby Wrap is the perfect wrap style carrier – with its unique fabric blend and the no-guesswork tying, the Boba Wrap is a great choice for beginners and advanced babywearers alike. The simple design of this baby wrap, free of buckles, straps or buttons makes it perfectly comfortable for both you and your baby. By evenly distributing the weight of your child, there is no time limit to how long your baby can stay in the wrap, so you may calm and sooth your baby with your warmth, your voice, your movement and your heart beat as long as you are both content! (Source)
It took Neil and I a few tries to get the fit right but after watching a few videos and following the instructional photos we finally figured out how to do it correctly.
What I love about the Boba Baby Wrap:
The fabric is light which is great with how hot our summer has been.
Edie feels secure in it.
Edie sleeps in the wrap leaving my hands free to do other things.
I can wear it anywhere.  I love to wear it out because Edie sleeps in it and I can walk around without having to push a stroller and it leaves my hands free to eat, drink or shop.
What I don't love about the Boba Baby Wrap:
It takes some thinking ahead when I am planning to wear it out.  I have found that the best way for me to prepare is to put it on before we head out so when we arrive at our destination I can just take Edie out of her car seat and place her in the wrap.  Prior to doing this I would end up dragging the long fabric on the ground as I tried to wrap it around myself.  It's not a huge deal but I just wish it was a little more convenient to put on quickly.
Overall we love our Boba Baby Wrap and one day when Edie is bigger we hope to try out the other styles of carriers that Boba have to offer.
Giveaway:
Enter for your chance to win a Boba Baby Carrier, and one of two Boba Wraps! All products can be seen at www.bobafamily.com. With Boba products it is easier than ever to enjoy Freedom Together as a family and Boba wants YOU to get a chance to use their products. To enter to win, "Like" them on Facebook (www.facebook.com/boba), follow them on Twitter (www.twitter.com/boba) and follow them on Pinterest! (http://pinterest.com/bobafamily/).

*Source: From Babywearing: The Benefits and Beauty of This Ancient Tradition by Maria Blois, MD (Pharmasoft Publishing, 2005) found in excerpt from Mothering magazine.
Disclaimer: Boba provided me with their product at no cost. I was under no obligation to review them if I so chose.  Nor was I under any obligation to write a positive review or sponsor a product giveaway.