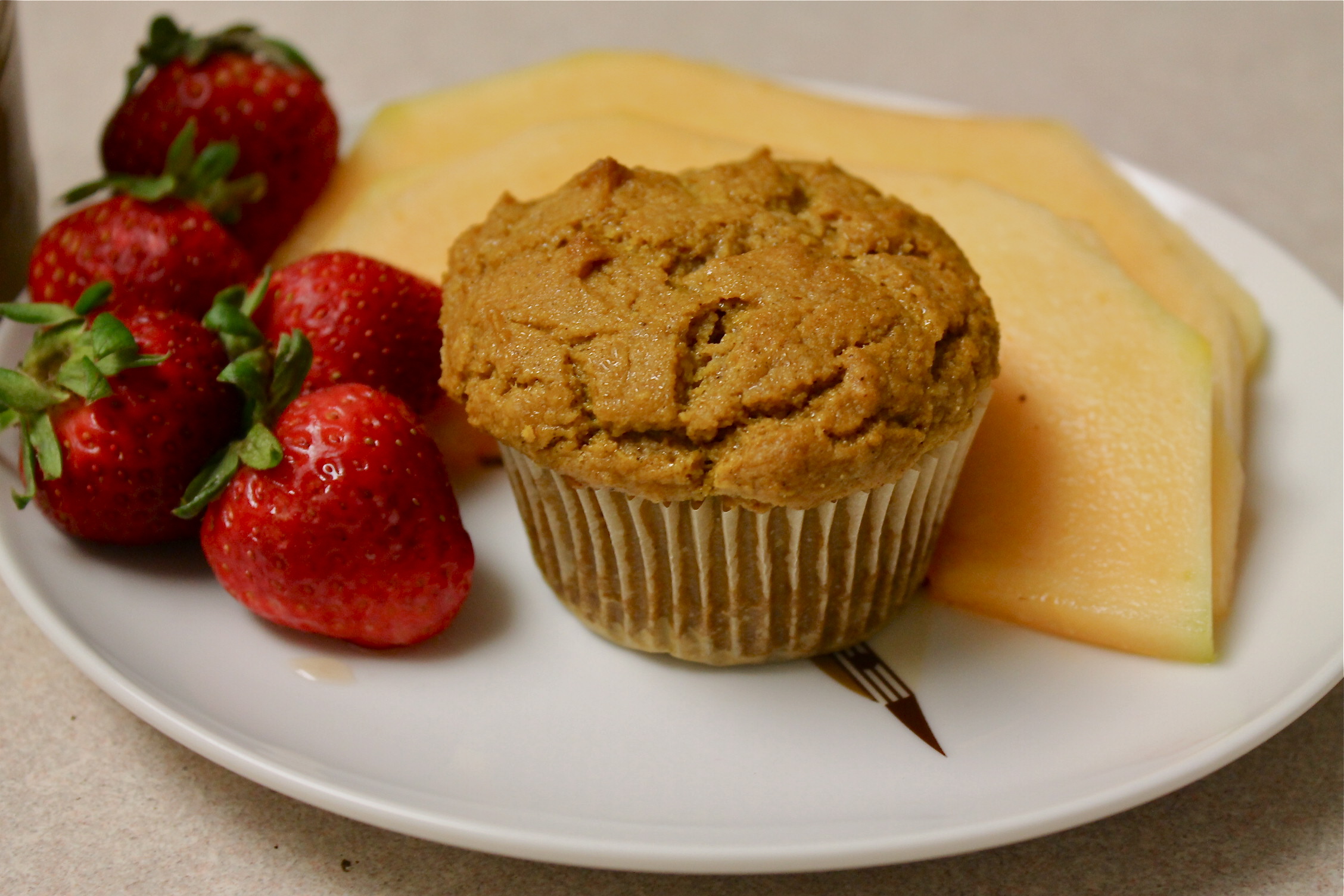 If you are looking for the giveaway you'll just go nuts about scroll down! 
This weekend Neil and I were fairly busy and it seems that things aren't going to be slowing down anytime soon!  We started the weekend off with a homemade Mexican pizza (recipe to come tomorrow) which was absolutely delicious.
Here it is all fixed up with a sprinkle of baby arugula, fresh tomatoes and sour supreme.  We enjoyed our slices, went for a walk and settled on the couch to watch a few shows.
Saturday morning I got up bright and early to bake up a batch of Babycakes gluten free Pumpkin Spice Muffins for our early morning birthing class.  Around 8:30 our birthing class teacher arrived (we are taking private classes) and we served up coffee, muffins and fruit before starting our four hours of class. In other news our birthing class teacher is also a doula and last week after doing a bunch of reading Neil and I made a last minute decision to hire a doula for the birth.  I checked with Sarah (our birth coach) to see if she had any July openings and she did so after our class we decided to hire her to be our doula (she is really wonderful and so comfortable to be around).  I'll discuss more of this doula talk in Thursday's update post.
After our four plus hours of birthing class Neil and I were so hungry we decided to use up the remaining homemade dough and make another small pizza for lunch and then I passed out for a few hours.  When I finally woke up Neil was going a little stir crazy and was ready to get out of the house so we decided to have a date night downtown including window shopping, drinks (beer for him and water for me) and dinner out at A Single Pebble <–Neil had a gift card from work so free (almost) dinner for us! After dinner we headed home and cuddled on the couch while watching the remainder of the Yankees game, we should have just gone to bed though such a bad game.
Sunday we enjoyed a lazy morning before heading out for brunch with friends that we hadn't seen since last July.  We spent over two hours enjoying food, conversation and having tons of belly laughs at Duino Duende.  It was so nice not to have a rushed meal and really enjoy the company.  After brunch we rean a few errands, took a nap, Neil did a training run and I watched House Hunters International.
While Neil finished up his run I made dinner of arugula walnut pesto with peas and white beans, a side of kale and leftover tofu from dinner at A Single Pebble.  After dinner we went for a stroll and then relaxed on the couch. What did you do this weekend?
Now that you've read my weekend recap keep scrolling and you'll find a great giveaway! 
Review and Giveaway: Doug's Nuts
A few weeks ago Doug's Nuts sent me a few complimentary bags of their nuts to try out and ever since then I have been in love.  When I first open the nuts I am expecting them to be sugary based on their shiny coating but they were super mild and really delicious.  They are coated with a flavorful glaze consisting of organic evaporated sugarcane juice, honey, oatmeal stout beer <– my husband saw beer and had to try them immediately, sea salt, organic vanilla extract, and other natural flavors. In the mix are roasted almonds, peanuts, hazelnuts, walnuts, cashews, pecans, and pumpkin seeds (the hazelnuts and pecans are my favorites).
I unfortunately finished off my two pouches pretty quickly (time to get some more I guess!)  but boy where they good.  I enjoyed them over soy yogurt, by the palm-full and my favorite way as a topping for apple "nachos".  What are apple nachos? Simply thinly sliced apples (I use my mandolin) drizzled with almond butter and topped with a sprinkling of Doug's Nuts and a few mini chocolate chips for good measure.
Giveaway Details- Open Until Friday May 11th at 8pm EST: CLOSED
Doug's Nuts will provide and ship one 6-pack of Doug's Nuts to the winner ($30 + shipping costs value) – OPEN TO US RESIDENTS ONLY
Winner:
To enter:
Visit the Doug's Nuts and come back and leave a comment letting me know something that you have learned. (Mandatory)
Additional Entries:

(Leave a separate entry for each)