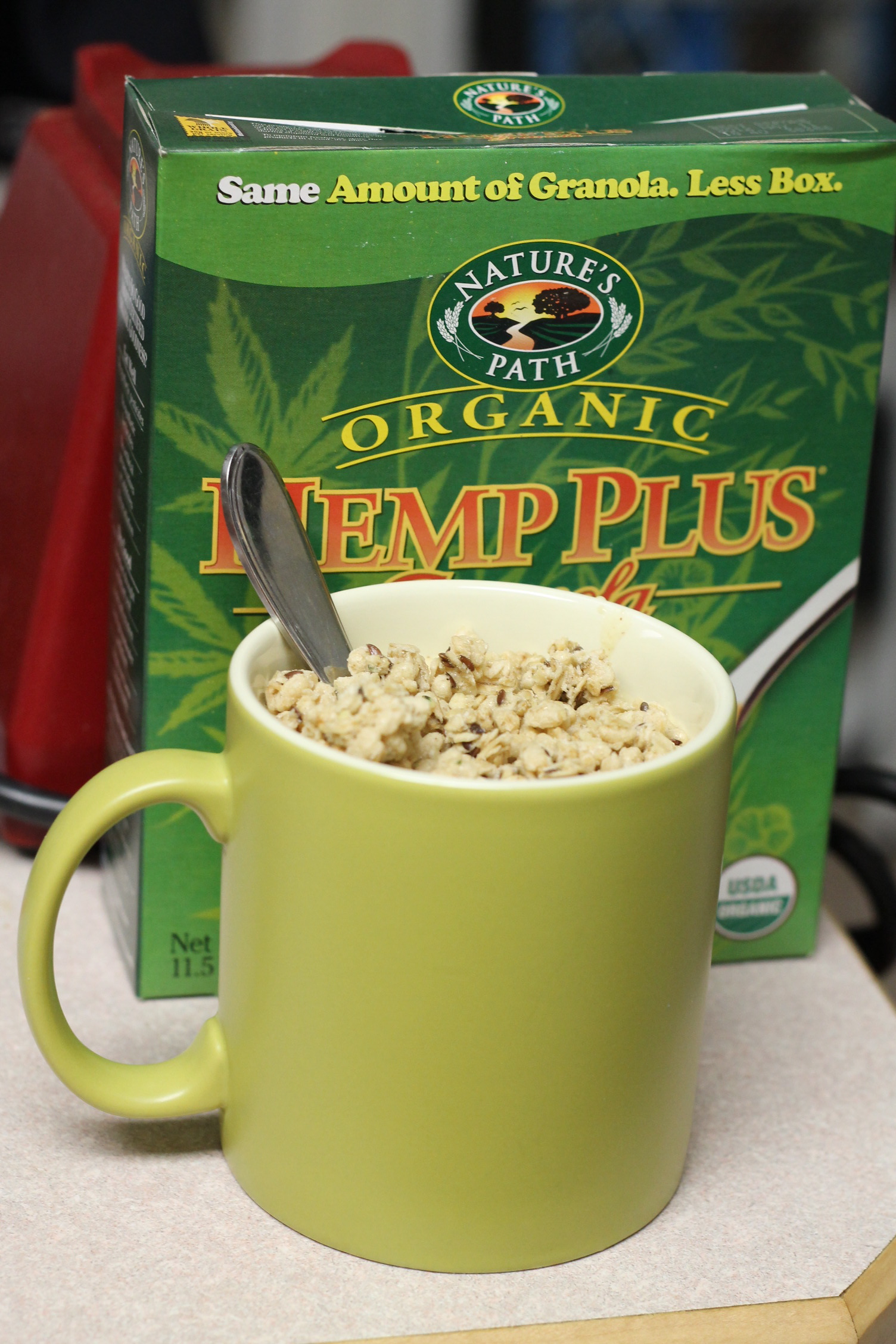 We are back from vacation but I still haven't done any major menu planning or grocery shopping this week which resulted in Thai takeout last night for dinner. It was tasty but it was a reminder that I'd much rather cook us as healthy dinner at home rather than eat out of cartons. So on the agenda today is a trip to Costco and the natural foods store to pick up the necessary goods to make healthy meals for the rest of this week/month.
Breakfast: Smoothie of frozen pineapple, frozen mango, banana, almond butter and unsweetened almond milk topped with a sprinkling of Nature's Path  Hemp Plus Granola.  I have been addicted to Nature's Path Hemp Plus oatmeal and now recently they sent me some of their granola and I'm addicted to it as well.  I actually just had some this morning on top of my granola to add a nice little crunch. 
Snack: Pear and another handful of Hemp Plus Granola (not photographed)
Lunch: Leftovers–> black beans, cilantro-lime brown rice, sauteed cabbage, mushrooms and onions, roasted asparagus, avocado and a nice drizzle of sriracha.
Dinner: Thai/Vietnamese Take-out –> vegetable fresh roll, lemongrass tofu and vegetables and curry noodles with vegetables and tofu.  We had leftovers of this for lunch today. 
What I DIDN'T Eat Wednesday
but I did eat half of sunday with some strawberries and a scoop of coconut milk ice cream –>
Chocolate Inspirations Vegan Brownie
.  This brownie was so good! Neil and I both thought that it looked like it was going to be a little dry but it ended up being really moist and tasty.  I also tried a few other items over the past few weeks from Chocolate Inspirations including Peanut Butter Pillows with Chocolate, Michael's Favorite Chocolate Combo with Pretzels (dark chocolate, vegan caramel, pretzels and peanut butter) and
Vegan Caramel Corn
.  I have to say my favorite was the caramel corn and I honestly love their
toffees, brittles and barks
 which I first tried a
few years ago
 more than the
peanut butter confections
.  I still have one of their hot chocolate stirrers to try and I'll let you know how those are .