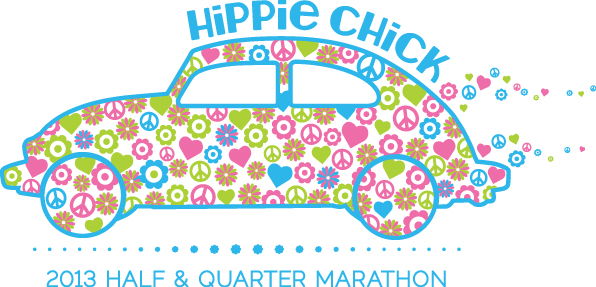 This morning I finally did it- I signed up for my first postpartum race. I have only been running a handful of times since giving birth to Edith but I am ready to get back at it.  I finally have a new pair of Brooks running shoes and honestly there is nothing better than a new pair of shoes to help motivate me to get out and use them. I decided to sign up for the Hippie Chick Quarter Marathon (which is sponsored by Brooks) with the possibility of switching to the half (I have until 4/30/2013 to decide if I want to switch).
I was going to sign up for the half but then looked at a calendar and realized the race is only 19 weeks away and that for the next 2.5 weeks I am going to be in snowland and then another week of transitioning/moving into a new home and time zone so I'm look at closer to 16-15.5 weeks of real training time.  Since I haven't been running regularly I didn't want to over do it so I think that a quarter marathon is a good place to start for my first postpartum race, although I might sign up for a 5k before I run the quarter.
So here is a loose training plan:
Weeks 1-3: Yoga, Core and Cardio Workouts- at home
Weeks 3-12: Get back to my 5k pace
Week 12(ish): Run a 5k
Weeks 12-19: Work up to 6.5-7.5 miles
Week 19: Run the Hippie Chick Quarter Marathon
Q: For the moms out there did you run during your pregnancy? How was it getting back to running postpartum? When did you run your first postpartum race and what distance did you run?