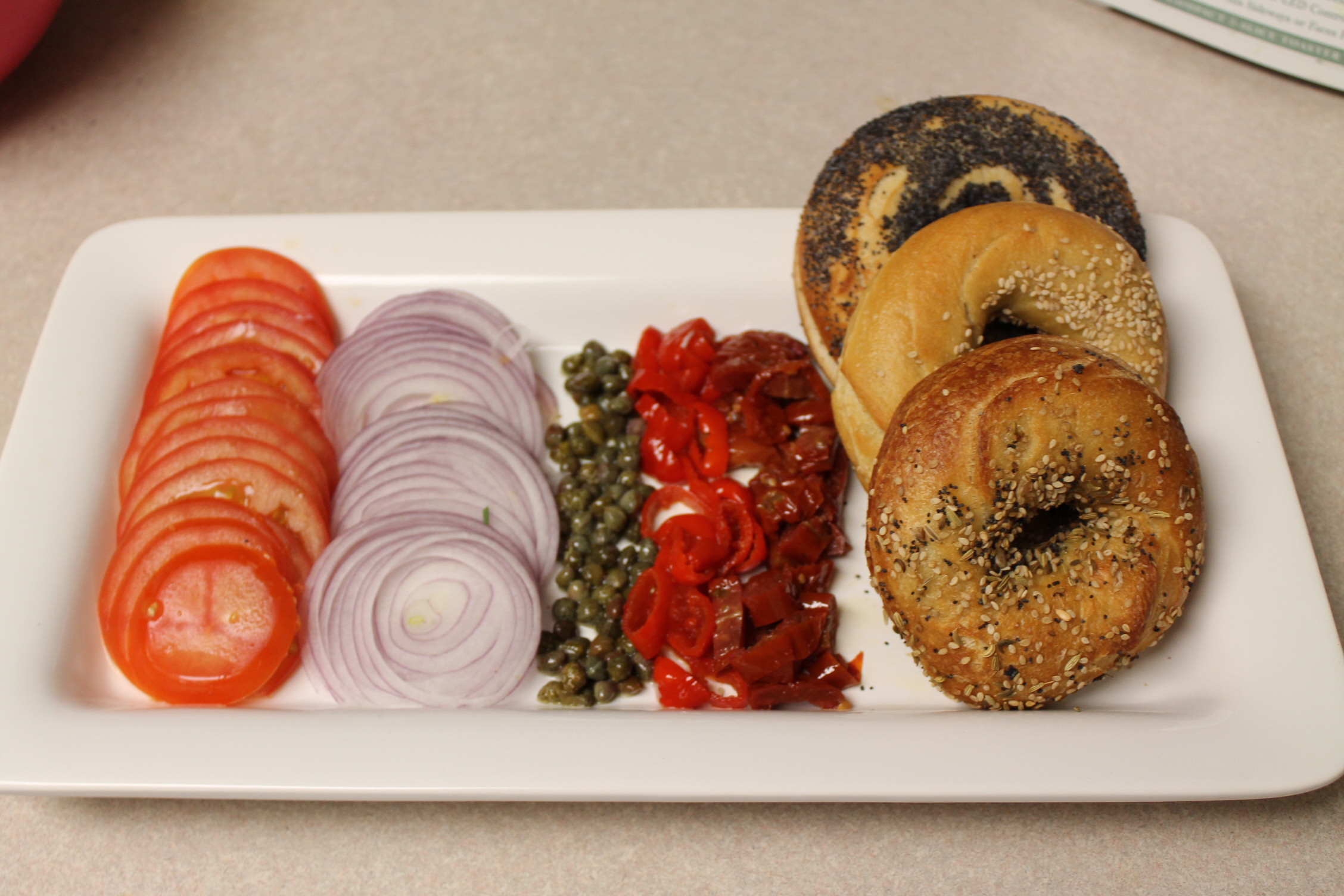 There is no denying it bread does not last long in this house, especially if it is in bagel form. Both the husband and I are addicted to toast, bagels with tofu cream cheese and sandwiches. To keep our addiction in check we don't often buy bread but rather eat it out (which isn't often) or Neil will bake us up a small loaf (much more manageable). One other way that we have been able to keep our addiction in check are wonderful sprouted breads that are from the freezer section; it seems that if the bread isn't on the counter we won't eat a loaf in two days (or less).
Our current bread love is French Meadow Bakery which makes bagels, wraps and bread both gluten free and not. We seem to always have something in our freezer nowadays and I love it. My favorite products are the bagels especially the hemp bagels with tofu cream cheese, thinly sliced onions and tomatoes, capers and a little salt and pepper- YUM! Also did I mention that one hemp bagel has 19 grams of protein and 13 grams of dietary fiber! This is a huge plus especially since being pregnant I need to make sure I am getting a good amount of both.
When my sweet tooth hits I turn to the sprouted cinnamon raisin bagels which honestly don't require any topping but are wonderful with almond butter and banana. These t0o are filled with protein and dietary fiber- Win!
Now I would eat most everything on a bagel but sometimes you just want toast or a sandwich and that's when I turn to the 16 Grain & Seed Bread.  This bread makes a fabulous sandwich or toast, I especially like to use it for open faced sandwiches.  Recently I made up a bowl of my favorite sandwich filling, chickpea salad, and topped a few slices of 16 Grain & Seed Bread along with tomato, red onion and a sprinkle of nutritional yeast.  I stuck the slices under the broiler for 4-5 minutes and voila I had the best open faced sandwich- double yum!
My Favorite Open Faced Chickpea Salad Sandwich
1 15-oz can of chickpeas, drained and rinsed
2 carrots, minced
2 celery stalks, minced
2T onion, minced
1/2T Triple Blend Flakes (or kelp flakes) (optional)
1/4 Cup vegenaise or your other favorite vegan mayo
Tomato and Onion, thinly sliced
salt and pepper to taste
Nutritional yeast
Place your chickpeas in a bowl and smash them with a potato masher.  Add the carrots, celery, onion, kelp flakes and vegenaise and mix to combine.  Top slices of bread with the mixture and then layer with onion and tomato.  Sprinkle with salt, pepper and nutritional yeast.  Place on a sheet pan and broil on high for 4-5 minutes.