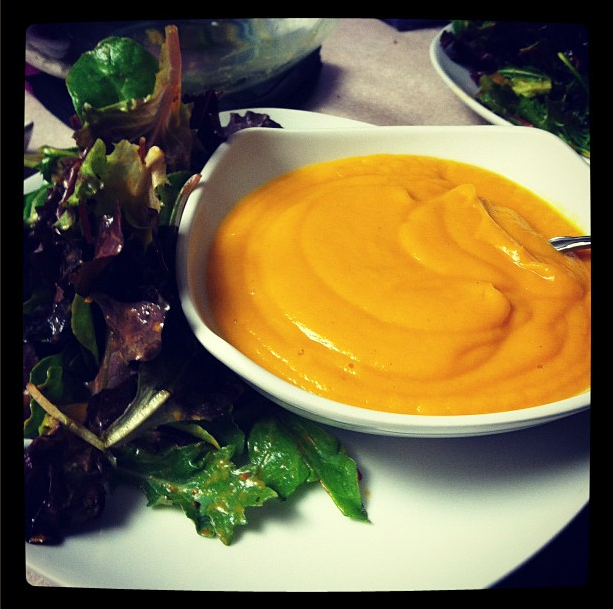 This past weekend the Hubz and I went out for lunch at Zabby & Elf's Stone Soup where I debated between two soup/chili options and ultimately ordered a big cup of chili  while  the Hubz had the hot/cold bar.  The other soup that I was hotly debating over was a Sweet Potato-Carrot Soup which became my inspiration for last nights dinner.  Having no idea what else was in Stone Soup's Sweet Potato-Carrot Soup my inspiration was limited to sweet potatoes and carrots and the fact that it was a creamy pureed soup.  I decided that I would go for a smoky sweet flavoring for the soup and serve it up with a nice green salad (and a veggie frankfurter for him).
Sweet and Smoky Sweet Potato-Carrot Soup
Ingredients:
2 medium sweet potatoes, baked, peeled and mashed
1 Tablespoon olive oil
1 medium onion, diced
2 large carrots, diced
2 large garlic cloves, sliced
1/2 teaspoon chipotle chili powder
1/2 teaspoon sweet paprika
3 cups vegetable broth
salt and pepper to taste
1/2 teaspoon umeboshi vinegar (or substitute with red wine vinegar)
Directions:
Prick the skin of the sweet potatoes and bake in a 350F oven for 1 hour.
In a medium heavy bottom pot heat the olive oil over medium-high heat.  Add in the onions and saute for 3 minutes.
Stir in the carrots and saute for 5 minutes.
Stir in the garlic, chipotle powder and sweet paprika and cook for 1 minute.
Add the vegetable broth and bring to a boil.  Reduce and simmer for 10 minutes uncovered.
While the broth is simmering remove the sweet potato from the skin and mash together in a bowl.
Place the broth and sweet potato in a food processor or blender (you may have to do this in two parts depending on the size of your machine) and process until smooth.
Return to the pot and season with salt, pepper and umeboshi vinegar.
Why use umeboshi vinegar?
Umeboshi vinegar
helps to balance flavors by adding a little tartness to your dish. I always use it to balance the flavors in my soups, sauces and with tomato recipes. Have you ever made a recipe and tasted and gone "there just something missing but I'm not sure what" well I recommend adding a little umeboshi vinegar to your recipe and my experience is 9 out 10 times it is just what the recipe needs.  Now a little goes along way so start with 1/4-1/2 teaspoon because you don't want to overwhelm the other flavors in your dish.