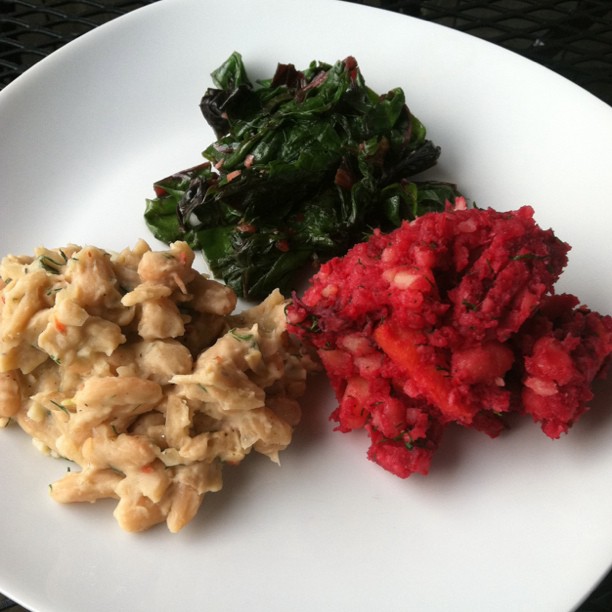 I have actually been doing a lot of cooking lately however I have failed at making much that I deem "blog worthy". Last week was a lot of quinoa and veggie bowls with salad, Saturday morning we had tofu scramble with homefries and yesterday for lunch I made a mac and cheese with gluten free pasta that turned out too dry. I did find last nights dinner to be successful and I took the time to actually grab a photo of what I made.
Since we get our CSA on Wednesday's Sunday until Tuesday usually ends up being unplanned meals because we never know how much of things we are going to receive. Last night I decided to use up the remaining potatoes, bright lights chard, dill and a cayenne pepper. I also found one carrot, one beet and half an onion that all needed to be used, and so they were.
Garlicky Chard
Makes 2-4 servings
1 bunch bright lights chard (or any kind of swiss chard you like)
1/2 tablespoon olive oil
2 garlic cloves, minced
salt and pepper to taste.
Heat the oil in a large skillet over medium-high heat. Add the garlic and cook for one minute. Add the chard and cook until wilted. Season with salt and pepper. Serve!
Creamy White Beans
Serves 4-6
Two 15oz cans of cannelini beans, drained and rinsed
1 Tablespoon olive oil
1/2 medium onion, minced
1 garlic clove, minced
2 tablespoons white wine, vegetable broth or water
1 cayenne chili, minced (optional)
1 tablespoon fresh dill, minced
3 tablespoons vegan cream cheese
salt and pepper
In a medium pot heat the olive oil over medium high heat. Add the onion and cook for 4-5 minutes until soft and translucent. Stir in the garlic and cook for one minute. Stir in the beans and white wine, cook until liquid is gone. Add in the chili, dill, cream cheese and salt and pepper, stir until combined. Serve!
Dilly Root Veg Mash
Serves 2-4
3-4 medium sized new potatoes, washed and quartered
1 large red beet, peeled, washed and quartered
1 large carrot, peeled and diced
2 tablespoons vegan margarine
2 heaping tablespoons chopped dill
salt and pepper to taste
Place the potatoes, beet and carrot in a pot and fill with water to cover. Bring to a boil over high heat and cook until fork tender. Drain and return to the pot; add the remaining ingredients mash together to combine. Serve!