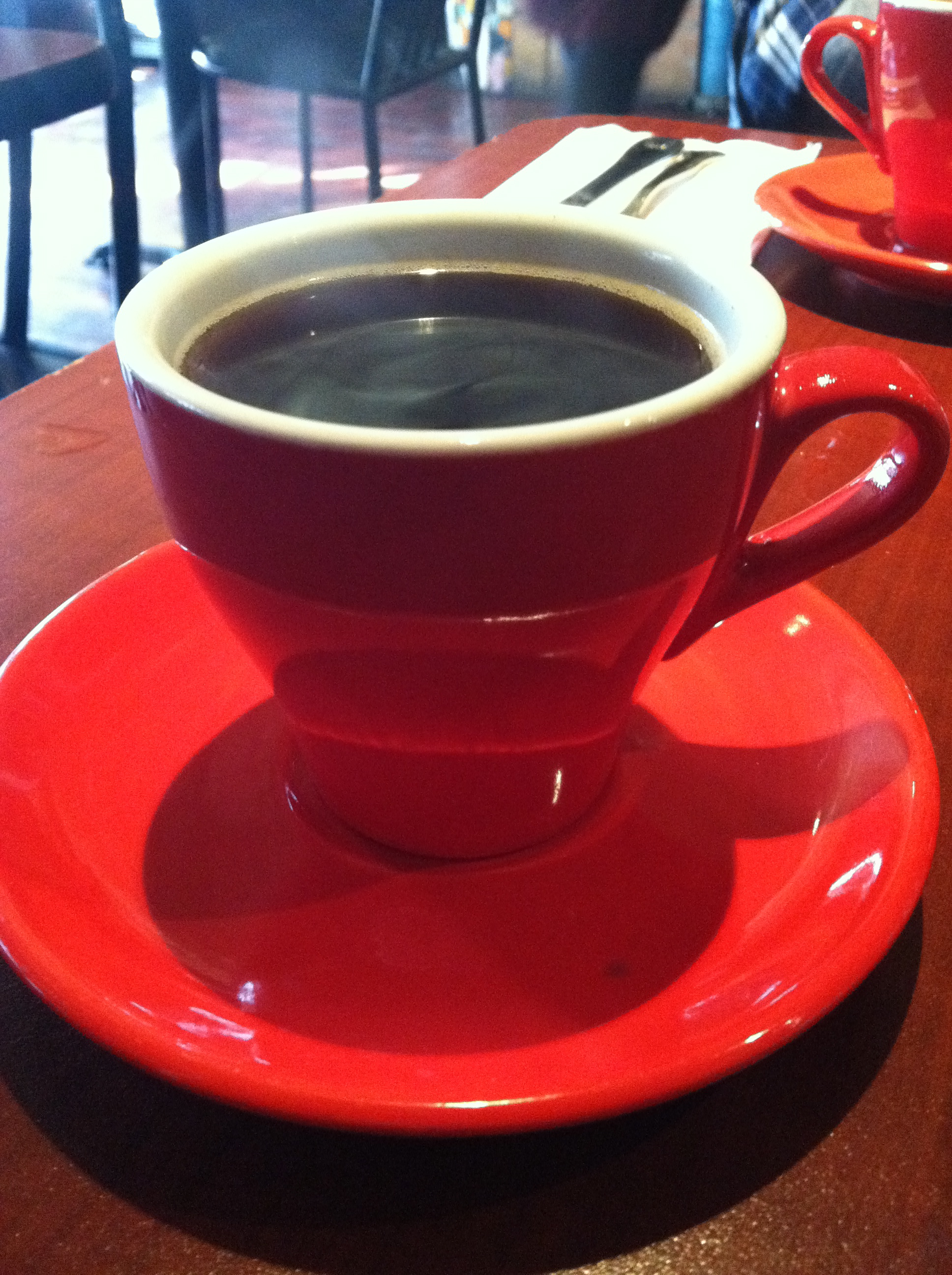 Saturday morning started out bright and early with a trip to Prospect Park-Brooklyn for the NYRR Jingle Jog 6k. Once we arrived at the starting point I found a place to watch and Neil headed off to his corral with the 6,000+ other runners.

Neil finished the race in around 35 minutes which was wonderful for his first race back since his head injury, I'm so proud of him!
After the race we were both hungry so we headed back to Manhattan to our apartment to shower and get ready for the day. By the time we were ready it was 11am so we headed out for brunch at Caravan of Dreams. When we arrived we were the only people there and ended up having a nice and quiet meal just the two of us.
After looking over the menu Neil and I decided to go with a brunch option which is served with a house salad, choice of fresh orange juice or sangria (or virgin sangria) and coffee or tea.

Decaf for me and regular for him.  Wonderful coffee. 
Virgin Sangria for me and regular for him. (I shared some of my berries since the regular was lacking). 
Salad for both of us.  The salad had a ginger-sesame dressing on it that Neil loved but I just wasn't a huge fan of; I'm not much for ginger unless it's in a smoothie of cooked up in a stirfry.

For my entree I had the Polenta Platter which came with Tomato, ali-oli, sautéed greens & vegetables, black beans.  My food was absolutely delicious! The greens were nice and garlicky and the polenta was lightly griddled and delicious.
Neil had the Scrambled Tofu with red cabbage, carrots, cauliflower & onions and whole wheat sourdough toast. Neil received a huge plate of food and he loved it.  I stole a bite and it was really tasty.
After brunch we walked around and did a little shopping, eventually finding ourselves back at Chelsea Market.  Neil had wanted to do some Christmas shopping when we were there on Thursday but our trip was cut short so that we could meet up with a friend for drinks (non-alcoholic for me).  Just as expected Chelsea Market was packed (I recommend going during the week).  We parted ways and both went off to do some Christmas shopping.
Once finished shopping we headed back to the apartment to have a snack, relax a bit and find a spot for dinner. We wanted to eat somewhere within a few blocks of the apartment and after doing a little research via the internet we decided to try Pala Pizza which had great reviews from omnivores and vegans.
When you first walk in Pala Pizza is really nice, dimly lit with candles on every table and it is cozy and romantic.  We were seated and after looking over the vegan menu ordered our we drinks and food.  We decided to go with the Crostini tomato, zucchini, daiya cheese and soy beschemel on gluten free bread, Insalate contadino mixed spring salad, cherry tomatoes and the Pizze arrabiata fresh cherry tomatoes, hot pepper, garlic.
So how was it? Awful.  This was by far one of the worst meals that we have ever had in NYC.  The salad was nothing special just greens and tomatoes with balsamic dressing.  The crostini was well not a crostini.  It was a piece of bread on top of salad greens with over cooked veggies, vegan cheese and an overwhelming amount of bechamel.  When I read crostini I think of a nice piece of grilled bread topped with a topping of some sort and you can easily pick it up to eat.  The crostini at Pala was a bland, over sauced mess. As for the pizza it was also super bland. The description says that there are hot peppers and garlic along with the tomatoes (as there should be in an arribiata) but neither Neil nor I could taste either of those.  It basically was as piece of flatbread with tomatoes on it, nothing spicy about it.  We finally enhanced the pizza slightly by adding oregano (which is the weird bunch of old dried flower looking thing that they leave on the table with no explanation-we tried it because others around us were).  To top it all off the service was lacking as well.  I would never return and I would not recommend this restaurant to anyone. 
We didn't end up finishing the pizza because it just wasn't  good but at least it left room for us to head to Stogo for some vegan ice cream.
Normally I would have just ordered a small but I was still so hungry after our horrible dinner and we had bought a deal online for two regular sized ice creams, which was just the size I wanted.  After tasting a few flavors I decided to avoid the soy (after that soy bechamel mess) and went with two coconut milk based ice creams, the green tea and strawberry.  Neil decided to go with one of our favorites the salted caramel and paired it with pumpkin pie (it really tasted like pumpkin pie).  Both of us devoured our ice creams within minutes because it was so delicious. Now Stogo is one of my favorite spots in NYC so go there!
Before heading to the city Neil found an online deal for 2-for-1 regular size ice cream at Stogo and  decided to buy one.  I really recommend you take advantage of all the online deals because it can really make your trip a little more budget friendly and you can experiences places you might not go to otherwise.  When we did our DC trip last year I found a ton of great deals on Groupon and LivingSocial which made our trip super inexpensive.
Stayed tuned for my final NYC Recap!