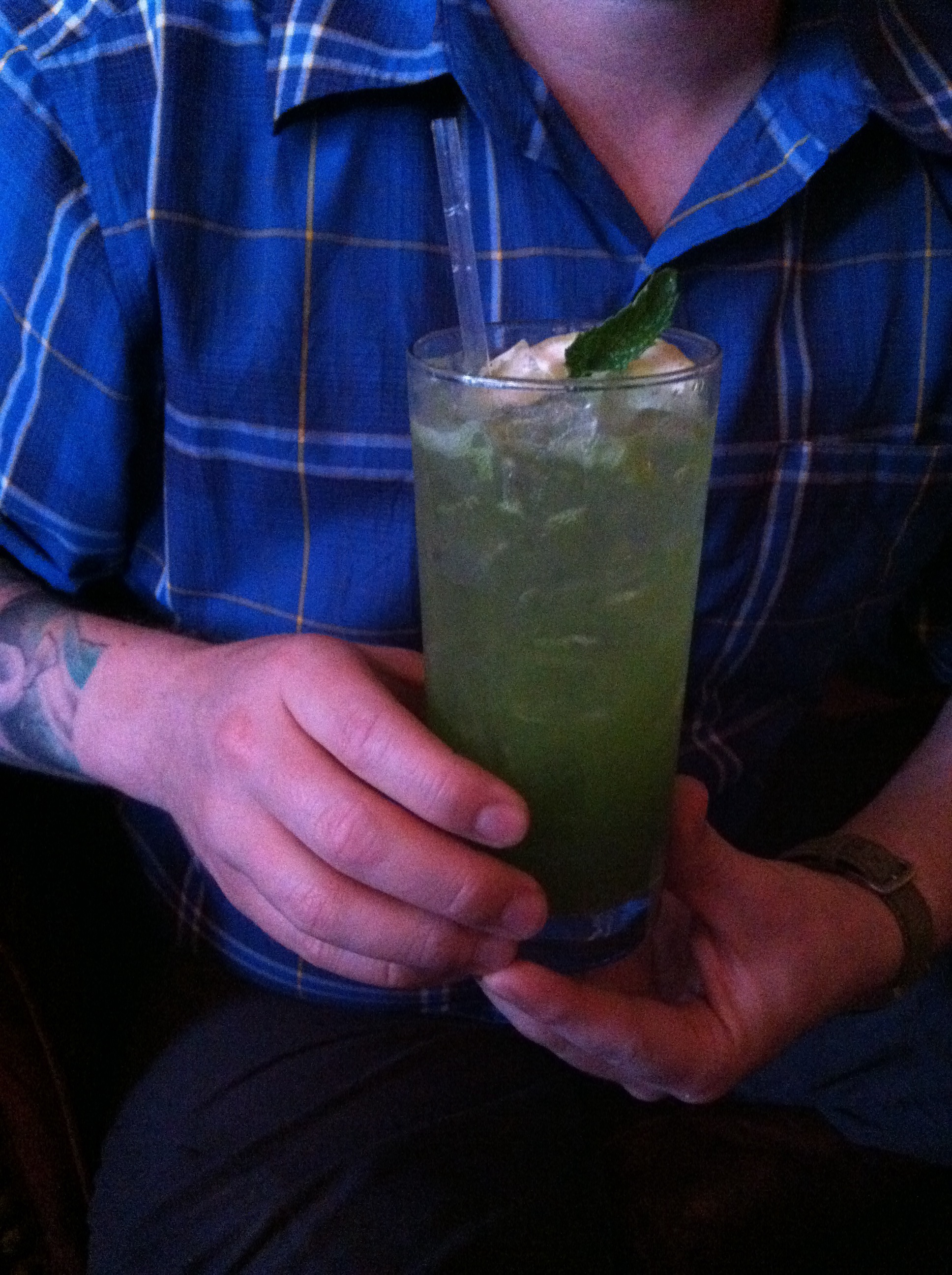 This past weekend Neil and I headed out for our last getaway before the baby arrives. For the past 3 years we have gone to Portland Maine for our anniversary but since this year Neil is running the KeyBank Vermont City Marathon and I'll be 34 weeks pregnant we decided to make our trip a month early. Initially we had planned to stay Saturday night but then decided to head to Maine after work on Friday night, but then we woke up Friday morning and decided to take a spontaneous vacation day from work and we headed out early- best decision ever.
We got on the road and made it to Concord New Hampshire just around lunch time so we decided to stop into Cafe Indigo a vegan bakery and cafe. Neil and I decided to share two different items and a cookie- it is a bakery after all. We shared the Veggie Cakes Cafe Indigo's version of crab cakes with tartar sauce, cornbread and slaw (my choice) and a Falafel Burger on a whole wheat bun with a lemon tahini sauce, slaw and blue corn chips (Neil's choice). I thought the Veggie Cakes were really tasty and the tartar sauce was delicious, I have to say though the tempeh crab cakes from Vegan Brunch are closer to what I imagine Crab Cakes to taste like. Neil really liked the falafel burger but I wasn't a huge fan of it, I thought it would have been better in a wrap than on a roll and it was a little dry. We both enjoyed the cornbread and the slaw but we didn't really touch the blue corn chips. The best part of the meal was the ginger cookie- AMAZING.
Next stop on our journey was to Whole Foods to pick up an iced coffee for Neil and an Arnold Palmer for me before  making it to the 3pm brewery tour at Allagash.  There is really nothing more depressing than watching a group of people sample a (four) wonderful brews and having to stand there and watch it all happen.  Neil enjoyed the samples and then we took a walking tour of the brewery.  Since I couldn't partake we picked up a bottle of Allagash Old HLT, a sour cherry beer, to share later this summer. Although I couldn't enjoy the samples it was one of the best tours that we have been on and would recommend it to everyone. Tip: you can call ahead to be put on the list for the tour as I imagine they fill up fast!
After the tour we checked into our hotel and then I decided that it was time to take a nap before dinner. We walked downtown from our hotel (rather up a giant hill) to Green Elephant, a wonderful vegetarian restaurant in Portland. I have been a number of times and Neil has been once before and we have always enjoyed it. We lucked out and arrived just moments before the dinner rush, although it is worth the wait.
We started off with the Fresh Rolls-Lettuce, carrots, avocado, rice vermicelli, and mint wrapped in rice paper, served with peanut sauce, they were wonderful.  For our entrees Neil ordered the Crispy Breaded Soy Filet stir-fried Chinese broccoli, Chinese broccoli carrots and thai bird chili in a brown sauce.  I stole a few bites (of course) and I have to say that this is now one of my favorite dishes I have had at Green Elephant.
For my entree I couldn't decided on what I wanted (too many choices) so I decided to get a soup and an appetizer.  I ordered the Fragrant Coconut Soup with tofu & baby bella Mushroom, cherry tomatoes, onion, scallion, and cilantro and Roti Canai an Indian style pancake. with vegetable curry dip.  This was my first time having the soup and it was so tasty, I didn't love the tomatoes in it but otherwise it was great.  The roti is an old favorite of mine and it was just as food as I remembered.
After dinner we decided to stop into Local 188 for an after dinner mock-cocktail and brew. Neil ordered a local microbrew (I can't remember the name) and I had a virgin Basil Lemonade, which was amazing and I have to replicate it at home!
After drinks we headed back to the hotel to rest up for a busy Saturday. Stay tuned!