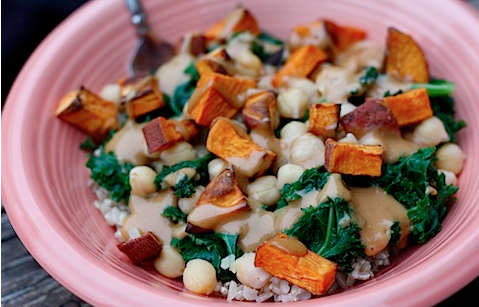 Hi, I'm Brittany from over at
Eating Bird Food
where I blog about eating healthy and staying fit while still having fun and not feeling deprived.
I'm honored to be guest posting for Lindsay today as I've been a fan of Cook Vegan Lover for quite some time. Although Lindsay and I haven't met (yet!), we've had fun connecting over the fact that we both attended IIN and are health coaches.Today I want to share with you all one of my favorite recipes, which just so happens to be vegan and super tasty!
Kale and Sweet Potato Brown Rice Bowls
Serves 3 to 4,
Print Recipe
Besides waiting for the rice and potatoes to cook, these bowls are super easy to toss together and taste amazing. Even your non-vegan friends will be amazed at how delicious and filling this meal is.
Ingredients:
1 cup uncooked long grain brown rice
1 bunch of fresh kale, cleaned and de-stemmed
1 cup cooked chickpeas,  or 1 15 oz. can
2 medium sweet potatoes, cut into bite size chunks
sea salt
creamy peanut sauce, recipe below
Preparation:
Pre-heat oven to 400°, chop sweet potatoes into 1/4 inch chunks, sprinkle with sea salt and bake for 30 minutes.
While sweet potatoes are baking, cook brown rice according to the instructions on the package.
Blanch kale in boiling water for 3 minutes, remove kale from water with a slotted spoon and place kale in an ice water bath so it stops cooking. Drain and squeeze the water out, chopped and set the kale aside.
Prepare creamy sauce (recipe below)
When the rice and sweet potatoes are done you can start compiling your bowls. Each bowl should contain 1/2 cup brown rice, 1/2 cup blanched kale, 1/4 cup chickpeas, 1/2 cup roasted sweet potato chunks.
Drizzle each bowl with some of the creamy peanut sauce and enjoy!
Creamy Peanut Sauce
Ingredients:
1/2 cup peanut butter
2 cloves of garlic, chopped
1/2 tbsp. fresh ginger, chopped
1/8 cup rice vinegar
1/8 cup tamari, shoyu or soy sauce
1/8 cup brown rice syrup
a pinch of cayenne pepper (optional)
water, to thin
Preparation:
Simply put all the ingredients in a blender or food processor and blend. Then add as much water as necessary to make the consistency that you like. It makes quite a bit so store any leftovers in the fridge for later. (It tastes good on everything!)
If you like this recipe, be sure to check out my blog. I'm always posting new and delicious recipes. 🙂