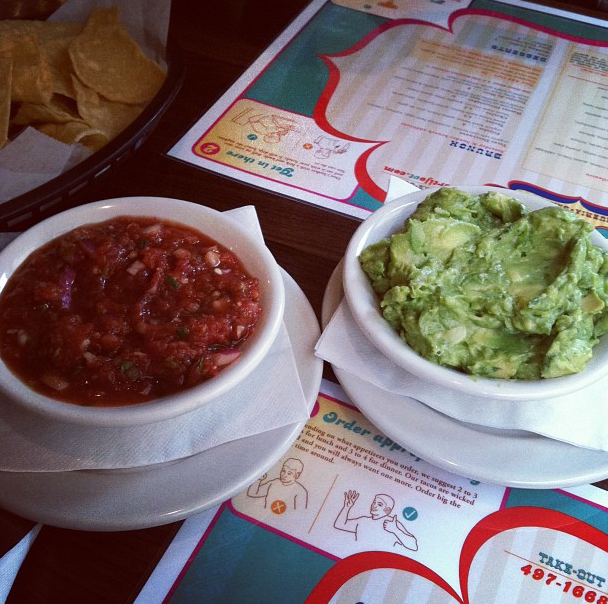 Neil and I have always made date night a priority of ours but ever since we found out that we are expecting it has become even more important.  We are trying to savor the last moments of our life as a family of two, while we prepare and get excited for our future as a family of three. Lately we have been trying to come up with ideas for date night that are things that are more challenging to do with a baby and last night was dining at a new small restaurant, El Cortijo. Now the restaurant wasn't anything fancy and it was pretty kid friendly but the space is super limited and unless you can secure a booth there is no where to put a baby.
We looked over the menu and quickly asked about the vegan options and were directed to the taco special minus the crema and the vegan taco which was on the menu. We also ordered chips with salsa and guacamole, something I have been craving for weeks. The salsa was nice and fresh and the guacamole was the perfect balance of creamy and chunky.
To go along with our meal Neil ordered a beer and I lusted over the margaritas but ultimately ordered a Rookies Ginger Beer.
We munched on chips and chatted for awhile about work, the baby and our day before finally diving into the tacos, which of course we ate based on the instructions on the menu.
We both ordered one of the specials which had kale and quinoa on it and the vegan Camote taco which was filled with
organic sweet potatoes, braised kale, guajillo salsa, pepitas.  The Camote was our favorite-so good!
Following our dinner we headed over to Baby Gap to take advantage of the sale and picked up a few things for Bebe.  Then we headed home to relax before bed.
The End.