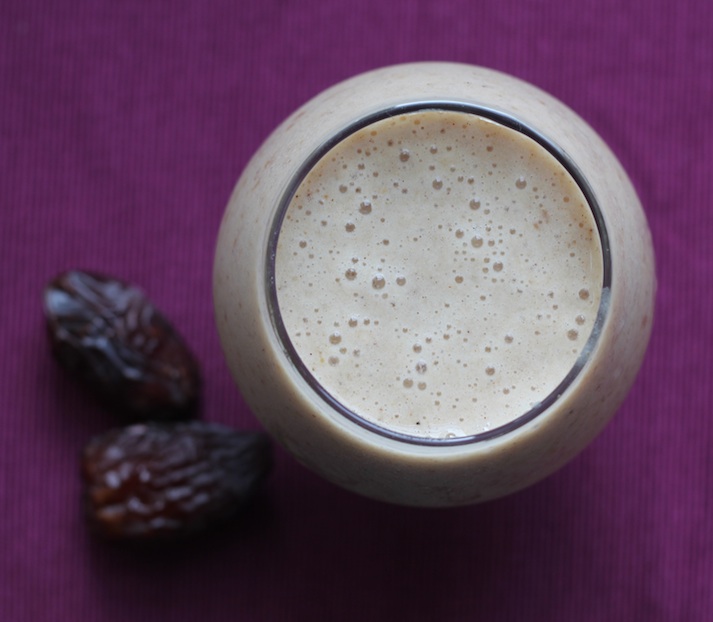 I love to travel and I don't get to do it enough so instead I let my taste buds take the trip. Food is an amazing thing, it can take you anywhere in the world without even leaving the comfort of your own kitchen.  With each sip of this creamy smoothie you'll be transported to India.
The garam masala and the ginger are warming, while the dates give it a nice sweetness and the Pure Almond makes it nice and creamy.  You might be thinking creamy? It just be high in fat and calories as well but with only 191 calories and 1.4 grams of fat per serving it is a wonderful healthy treat.
Date in Bombay Smoothie
Serves 2
Ingredients
1 medium banana
1/2 teaspoon garam masala
1/4 teaspoon ground ginger
2 Medjool dates, pitted
1 cup Silk Pure Almond Unsweetened Vanilla
1 cup ice
Directions
Place everything in a blender and blend until smooth. Serve in your favorite glass wear.
*Nutrition (per serving): 191 calories. 1.4g fat. 0mg cholesterol. 80mg sodium. 55.1g carbohydrates. 5.1g dietary fiber. 36.2g sugar. 2.2g protein.
Calories saved per serving by using Silk Pure Almond Unsweetened Vanilla versus skim milk: 24 calories
*From Calorie Count Recipe Analysis (http://caloriecount.about.com/cc/recipe_analysis.php)
Disclosure: I was compensated by FitFluential LLC  for this campaign. All opinions are my own.