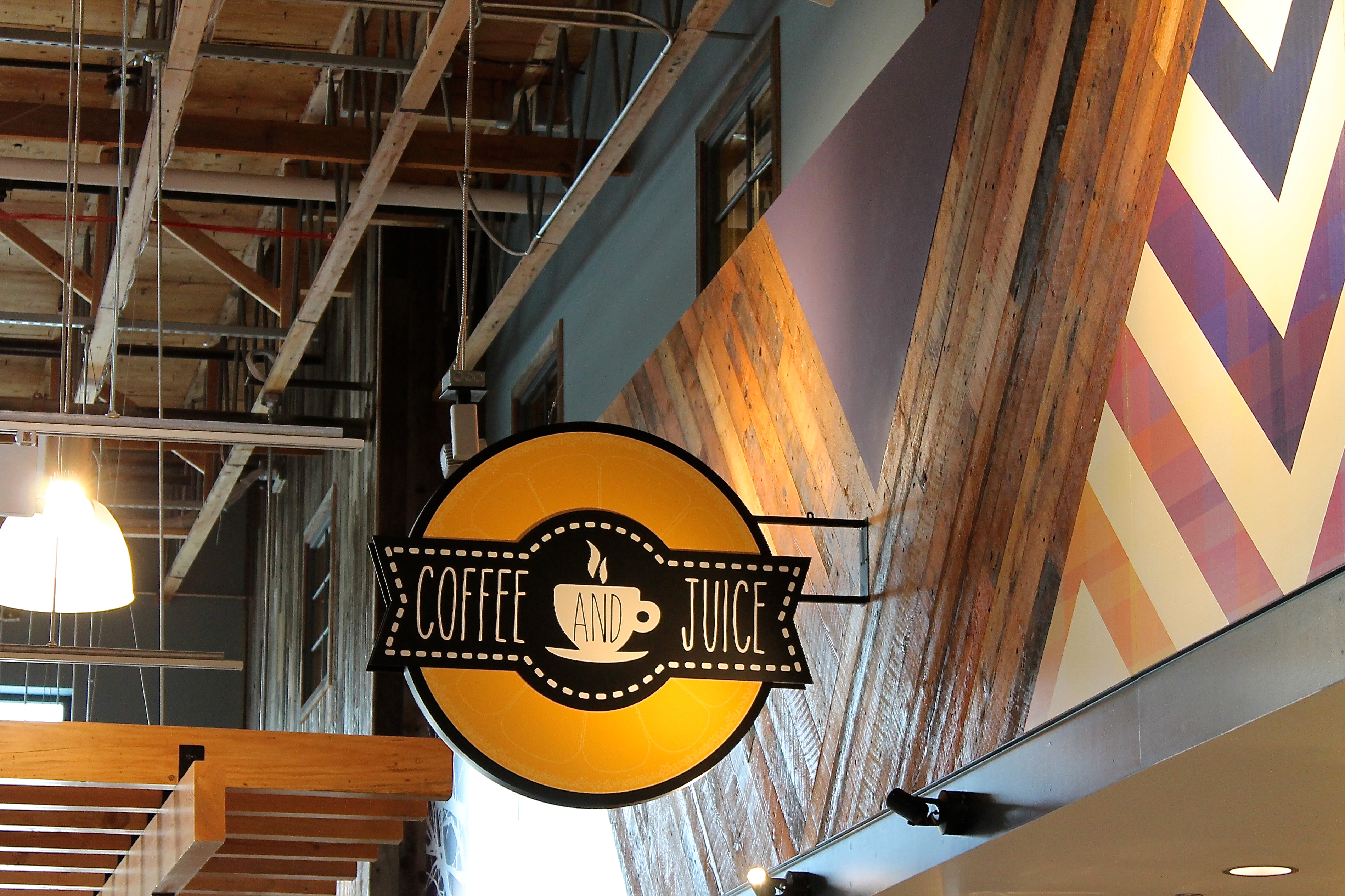 Who loves Whole Foods? I know I do. I love the shopping experience, the store layout, the friendly staff and the quality of food. When we lived across the street from Whole Foods you could easily find me there a few days per week and now even 9 months after moving to a new home the rare time I visit our former local Whole Foods I have staff members who remember me (that's how often I was there).
Of course when I was invited to a media sneak peek of the new Whole Foods opening in Tigard, OR I had to go and check it out. The store is opening up tomorrow (May 21st) and let me tell you this store is pretty awesome. While it has some of the same features as your standard Whole Foods it also has some different things you won't find at every Whole Foods or at least at the ones here in the Portland area.
Can we talk about how beautiful these signs are? Seriously!
They are also hand drawn/colored local artists.
Check out the awesome bulk area.
Plus they have their own nut butter grinding station.
With the most amazing chocolate hazelnut nut butter.
Seriously you have to come to this store just for this one item alone. We were lucky to sample it and Edith may have sneaked an extra sample or two.
The wine and beer section was pretty impressive and had me longing for a nice glass of red or crisp white (I am counting down the weeks -10 more if you're keeping track).
Another awesome feature is beer on draft and you can buy growlers! There are going to be four local beers on tap ready for you take home. For the wine lovers there will be growler fills for a few different wines as well!
Check out the sandwich options. For my vegan friends doesn't that reuben sound insane? Neil and I are already making plans to stop in and try one out when the store officially opens.

For my coffee, smoothie and/or juice lovers there is a bar just for you at this Whole Foods. Also something I learned (probably old news) but non-dairy milks DO NOT cost extra for coffee drinks!!
Okay I saved the best for last. Check out this insane outdoor seating area. Seriously so beautiful! I have never seen anything like this before and if I lived just a little bit closer you can bet I would be here regularly to work and/or relax. I didn't get a good interior shot but the inside sitting area is pretty awesome as well and has as really communal feel which is great for larger parties.
Okay so that is my sneak peek for you of the new Whole Foods Greenway in Tigard. I am hoping to head out tomorrow for the grand opening which is at 9am and take advantage of all the grand opening deals. Who's with me?
Whole Foods Market- Greenway
12220 SW Scholls Ferry Road