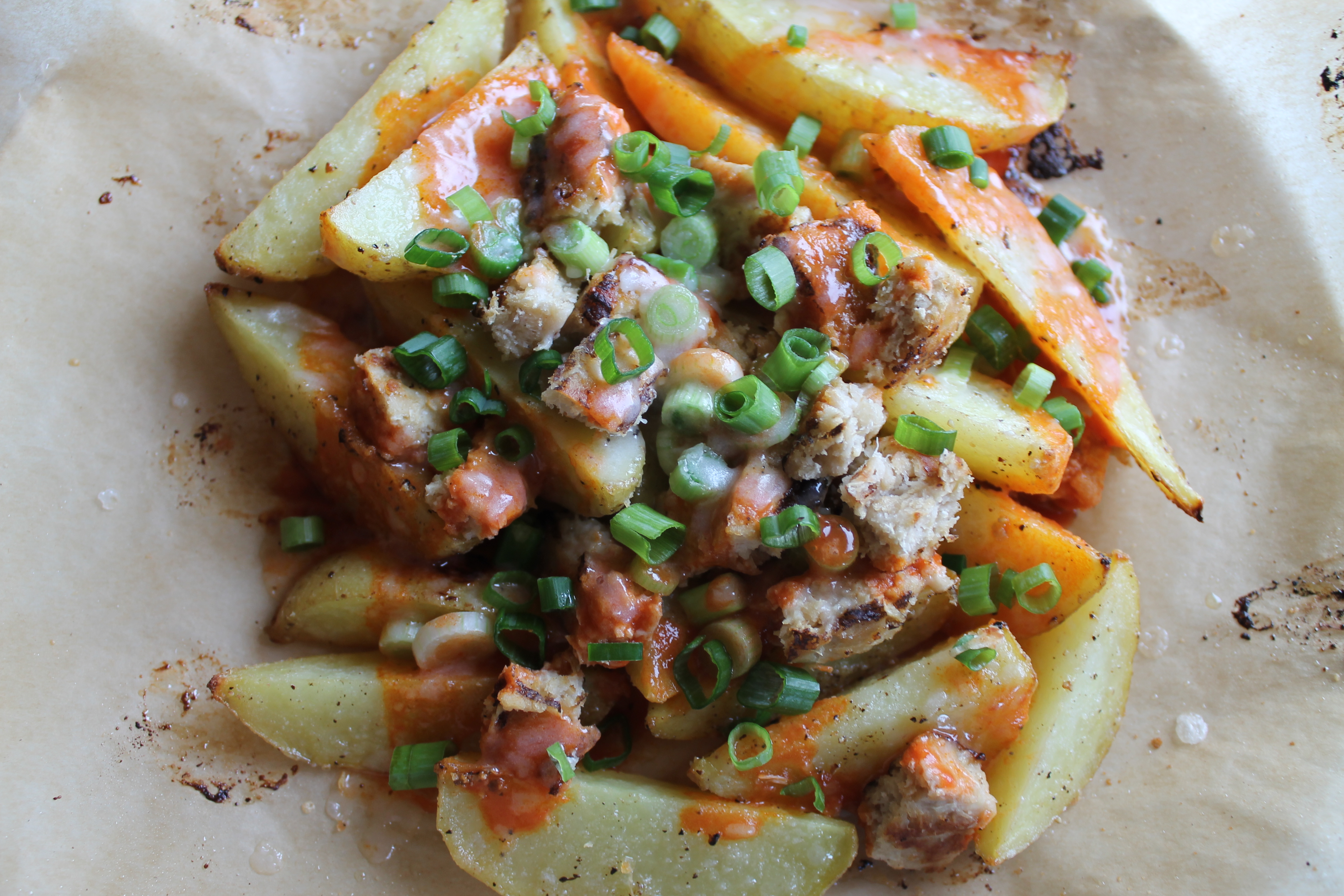 Can we talk guilty pleasures? I love, love, love smothered fries. Top them with chili and vegan cheese, gravy and vegan cheese or in this case vegan buffalo chik'n and vegan cheese.

Seriously what is better than fries topped with ooey gooey goodness?
This weekend I decided to indulge in my guilty pleasure and made a single serving of buffalo chik'n fries. These are seriously so good and super spicy. I don't know what it is about pregnancy but with Edith and with Baby #2 I just can't get enough spice so not only did this fulfill a guilty pleasure of smothered fries but also my craving for spice.
Ingredients:
1 serving of potato wedges (homemade or frozen)
1 tablespoon Frank's Hot Sauce
2 tablespoons shredded vegan cheese
1 scallion, thinly sliced with greens and whites separated
Directions:
Cook the potato wedges based on recipe or package directions.
Cook the MorningStar Chik'n based on the stove top directions and then dice up.
Arrange the cooked potato wedges in a pile on a sheet pan lined with parchment paper and turn the broiler on.
Top the potato wedges with the chik'n and the scallion whites, the pour over the hot sauce and sprinkle with the cheese.
Place under the broiler for 2-3 minutes until cheese is melted <– keep an eye on this so you don't burn them!
Remove the wedges from the oven and sprinkle with the scallion greens. ENJOY!
Okay and now I want to make another batch of these and eat them all up. Hmm….maybe a double portion next time (I blame baby #2).
Q: What is your guilty pleasure?
Disclosure: Compensation was provided by Kellogg's MorningStar via Glam Media. The opinions expressed herein are those of the author and are not indicative of the opinions or positions of Kellogg's MorningStar.
Find your fresh take on eating well. Browse hundreds of meat-free recipes at MorningStarFarms.com.
*This product is vegetarian not vegan.